Let's say that you just came across a great opportunity, your friend has informed you there is a shortage of airplane wings and together you have enough capital to start a new company that makes the parts for them. Well where should you decide to base this company, where can we find workers who are qualified to make these parts? You could always try and recruit aerospace engineers to come to wherever you decide to start your company but all that recruitment takes time and money. Another strategy would be to start your company where there is already a surplus of aerospace engineers. Now let's take it one step further and say you want to stay in the Middle. Lucky for you there are two great options in the Midwest.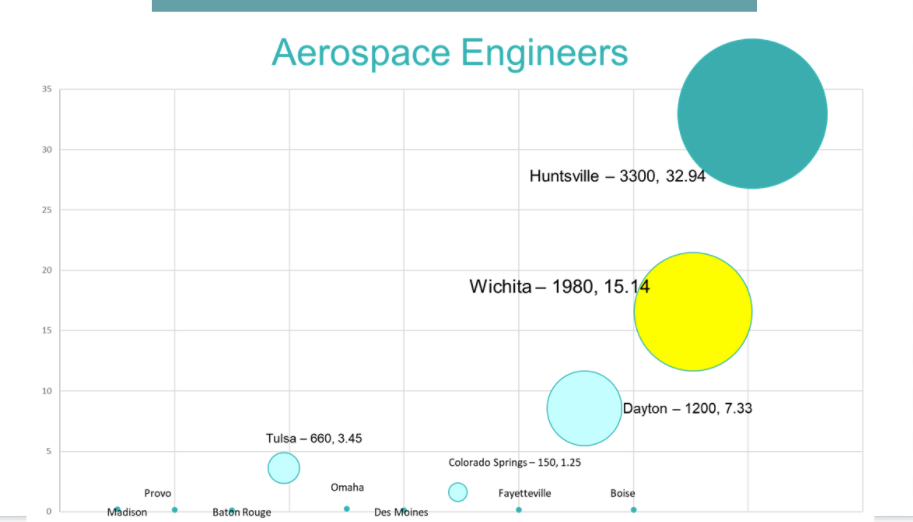 The towns of Dayton, Ohio and Wichita, Kansas have long been prominent communities in the world aviation industry. Because of this, both towns have a proportion of aerospace engineers much higher than towns of equal size around the country. Location Quotients (LQ) are a statistic that measures the amount of workers in a specific industry by city, county, or state relative to what the quantity would be if all industry workers were spread equally across the United States (for a more in depth look at location quotients click here). Wichita has the second highest LQ of aerospace engineers in the country at 15.14 and Dayton is in third at 7.33. This means that these towns have 1514% and 733% more aerospace engineers than the national average respectively. At this point you might be wondering why would 1980 aerospace engineers have decided to call Wichita home and 1200 reside in Dayton. Let's take a look at what makes these towns pull aerospace engineers at such a high rate.
Nearby Air Force Bases
One primary reason that aerospace engineers reside in these communities is their nearby Air Force bases. Wright-Patterson Air Force Base is a base located just outside of Dayton. Wright-Patterson is the largest overall employer in Dayton. Similar story in Wichita. McConnell Air Force Base is located four miles away from the central business district in Wichita and is the third-largest employer overall in the Greater Wichita region.
The military hires aerospace engineers after they complete college, and many of the service branches also have a variety of programs that allow for those service members to earn their degrees while they are serving. Moreover, with large AFBs in Wichita and Dayton, there are reasons that the Air Force is likely to create and train aerospace engineers.
Moreover, the military often hires defense contractors to work in and around AFBs. Some of these defense contractors work on missions where being an aerospace engineer is essential – such as aerospace logistics, flight planning, and aircraft research and design. With strong local presence, Wichita and Dayton (and their affiliated AFBs) have long been home to many of these types of missions. This has created a long-term steady comparative advantage for each region.
Thus, many aerospace engineers have direct ties to the U.S. military – either through employment in a defense contractor or training during their service time. As far as careers according to Aerospace Engineers — Today's Military, "Aerospace engineers direct research programs and design military aircraft and aerospace equipment. They serve as aviation technical specialists in air warfare research projects and supervise aircraft design projects from development to evaluation of experimental equipment." The article goes on to say, "they formulate policies and coordinate procurement programs for aircraft and aircraft subsystems, and serve as engineering and technical management liaisons across military branches, contracting organizations, and other government agencies." With that many programs and missions requiring a specific, unique skillset, and with those missions often residing at Wright-Patterson and McConnell AFBs, it is no surprise that there is high demand for engineers in Wichita and Dayton.
Manufacturing
Beyond just the military, Dayton and Wichita are home to some of the biggest aviation manufacturers in the United States – creating high demand for engineers of all stripes, but particularly aerospace engineers. Here are some examples from Wichita:
Cessna Textron Aviation which employs more than 12,000 people in the Wichita community alone;
Spirit AeroSystems employs more than 10,000, the company was formerly the Wichita branch of Boeing and was sold to Onex Corp. and continues to build important pieces of the Boeing aircraft;
Beechcraft Textron Aviation has around 7,000 employs in its Wichita branch, the company produces a variety of different planes and replacement parts;
Bombardier Aerospace is the fourth largest aviation employer in Wichita but the third largest civil air-craft manufacturer in the world in total, Bombardier specializes in the production of commercial aircraft and sells them worldwide. All together these companies are some of the biggest reasons that about 35% of all commercial planes in the United States come from Kansas.
Collaboration With the University
Because of their unique density, comparative advantage, historical position, and current resources, Wichita and Dayton are in a prime position to take advantage of their strengths to continue to lead aerospace engineering innovation and business creation. This helps facilitate the entrepreneurial ecosystem and systemic connections across the aerospace industry in these two hubs.
As such, the two regions have also spawned numerous workforce and talent development programs targeted at aerospace – including those at the university level and at the community college level. In fact, both communities have local programs for K-12 students to become more familiar with aerospace related jobs and the industry, at large.
As mentioned earlier both Wichita State University and Dayton University offer aerospace engineering degrees. Wichita State has embraced the industry that surrounds them and has adopted several programs revolving around aerospace to attract the future of airline engineering to the city. The National Institute for Aviation Research at Wichita State (NIAR) provides top level laboratory facilities to those striving to create the next great innovation in the aviation field. NIAR creates an engine for innovation and entrepreneurship. There are only a few other places in the country where an entrepreneur in the aviation industry could conduct the product development available at Wichita State.
The University of Dayton has taken a similar approach making strides to promote research and development. In 2010 the university partnered with GE Aviation to bring a brand new research and development center to the university. The facility is a $51 million dollar investment owned by the university and leased to GE. The goal is to attract those who are working on their upper-level engineering degrees to Dayton in order to get the most talented aerospace and aviation workforce available. The head of GE's aviation Vic Bonneau emphasized this, "Our goal is to develop relationships with young researchers who would then want to work for us."
Conclusion
Wichita and Dayton are global outliers, in terms of their LQ in aerospace-related workforce and business. This industrial cluster, and all the requisite outcroppings in the military, manufacturing, and education has created a formidable comparative advantage for the communities. This high concentration provides an opportunity for lots of innovation and the