For those of you who might be unaware, there is a global pandemic taking place. One of the first things that is mentioned as a means to staying safe is to "wash your hands thoroughly". Archimedes Innovations has an alternative idea regarding how to ensure that you don't catch COVID-19 or many other viruses that transmit through your hands – the Wave Halo.
We caught up with Peter Forhan, the Chief Technology Officer and technical co-founder of Archimedes, and discussed the technology behind the Wave Halo, a new device for killing germs on people's hands. The Wave Halo uses germicidal light, primarily a short range of UV-C (ultraviolet – range c) light, to kill viruses, bacteria, and other pathogens that may be on a person's hands. The mechanism essentially looks like a ring. A person moves their hand back and forth through the "ring" where UV-C light eradicates "99% of germs without water, chemicals, or waste."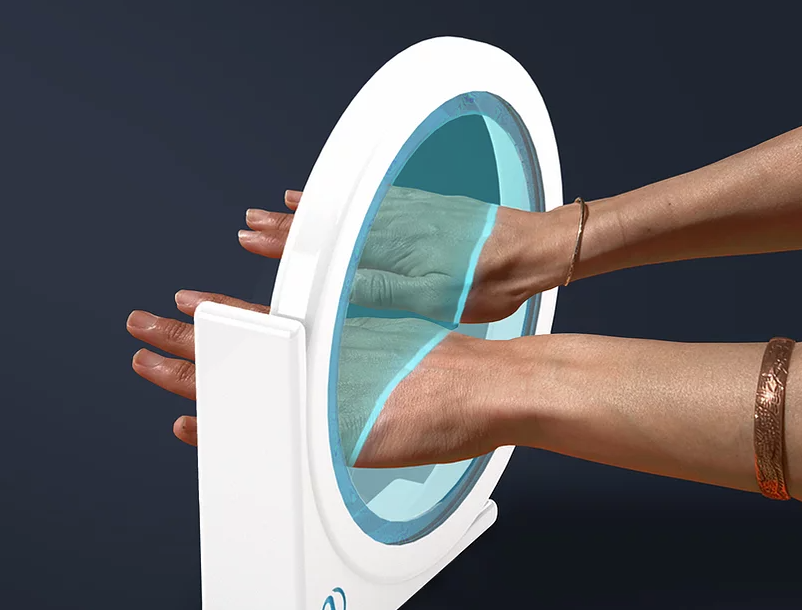 Mr. Forhan described the evolution of the product. "I was working on germicidal light to clean laundry, originally, but when I met Margarita [Dr. Margarita Hernandez] we started thinking about so many other uses of the technology." The two met when Forhan walked into Ann Arbor Spark, a tech incubator in Ann Arbor, specializing in working with University of Michigan students and researchers. He was a walk-in, but Dr. Hernandez, who serendipitously happened to be walking by, offered to chat with him. She immediately saw the opportunity and has since joined his team.
From Cleaning Laundry to Cleaning Hands
Germicidal lights are the ultraviolet spectrums that kill germs. However, Forhan's research focused on a specific spectrum – UV-C – as a means for deodorizing and disinfecting things, originally clothing. The original design for a laundry machine was a one device process – no washer and dryer combo. He was building a prototype and tinkering with this new type of device and was struggling to commercialize his ideas. The light spectrum and technique did emit ozone (O3) which is toxic, and while Forhan had figured out ways to mitigate this challenge, there was concern about the commercial viability of an appliance with such a serious by-product. This was not stopping Forhan, and so, the team pivoted to cleansing hands.
Dr. Hernandez has a PhD in Molecular, Cellular, and Developmental Biology from the University of Michigan. She was working at SPARK helping entrepreneurs (by leveraging her own personal expertise as a biotechnology co-founder of a startup) in the role of Director of Entrepreneurial Services. Working with Hernandez, the team discovered a means to disinfect human skin without damaging the cells. Dr. Hernandez provides the technical research background on cell biology to ensure that the product does not cause harm despite the use of ultraviolet technology.
During that initial meeting which took place at Ann Arbor SPARK, Forhan also discovered the power of Michigan's various economic development programs. First, he received a technical grant to help him develop the underlying technology. Beyond that first grant, Forhan described a variety of other state programs including Centrepolis in Southfield which describes itself as: "the Centrepolis Accelerator is accelerating the growth of Southeast Michigan's advanced manufacturing, innovative hardware entrepreneurs, and small manufacturers by providing access to funding, experts, and key business and product development resources." Archimedes was able to leverage this expertise to expedite the prototyping and manufacturing process.
Second, he was connected to Hernandez and a variety of other entrepreneurial contacts. One of those key contacts was George "Tripp" Adams who had business and legal experience in the startup space. Ultimately, Mr. Adams became Archimedes' COO, and now CEO. Moreover, Forhan described the talent availability in Ann Arbor specifically, and Michigan generally as being "awesome." He said that the capabilities associated with design, prototyping, and ultimately manufacturing the Wave Halo hardware has surprised him. "Ann Arbor has the people and expertise to make great things," he said.
Wave Halo Beats Sanitizer Hands Down
The original plan was not to build something to clean hands. But, in conversations (even before the pandemic) there was a significant amount of interest from customers and technologists. Basically, Forhan explained that there are a lot of situations where water is not available, and waste is also problematic. Moreover, he explained that even hand sanitizer is a poor comparison to Wave Halo's efficacy. This is one of the reasons that Wave Halo's first beachhead market is actually associated with distribution and logistics centers. At these centers, people handle thousands of packages potentially spreading germs nationwide, but with Wave Halo, they can conveniently de-germ while not having to use separate facilities generating lost time, waste and/or wastewater, etc. The company has also identified education, healthcare, food services, and hospitality as key markets for the future.
New technologies are rising from the Middle to deal with the COVID-19 pandemic. Beyond Wave Halo, there have been a variety of other technologies, such as Wichita-based Nitride Solutions new anti-COVID wand that have sprung up to confront the new danger. Within this research and development, the strength of college towns, such as Ann Arbor, is fully on display – technical strength, manufacturing capabilities in nearby cities (such as Detroit), and innovative thought leaders – like Forhan and Hernandez.
The company came to our attention because they recently completed a venture funding round – an approximately $388k angel investment via a convertible note. In following up on this lead, our team became increasingly excited about the technology. Forhan said that you could reach out to them via their website to get on their waiting list.