MakuSafe co-founder and CEO Gabriel Glynn and his company created innovative wearable technology in West Des Moines, Iowa to foster workplace safety and real time job site data gathering.
The company pursues safety using cloud based AI/Analytics and wearable sensor technology inserted into an armband, which also houses a voice memo recorder.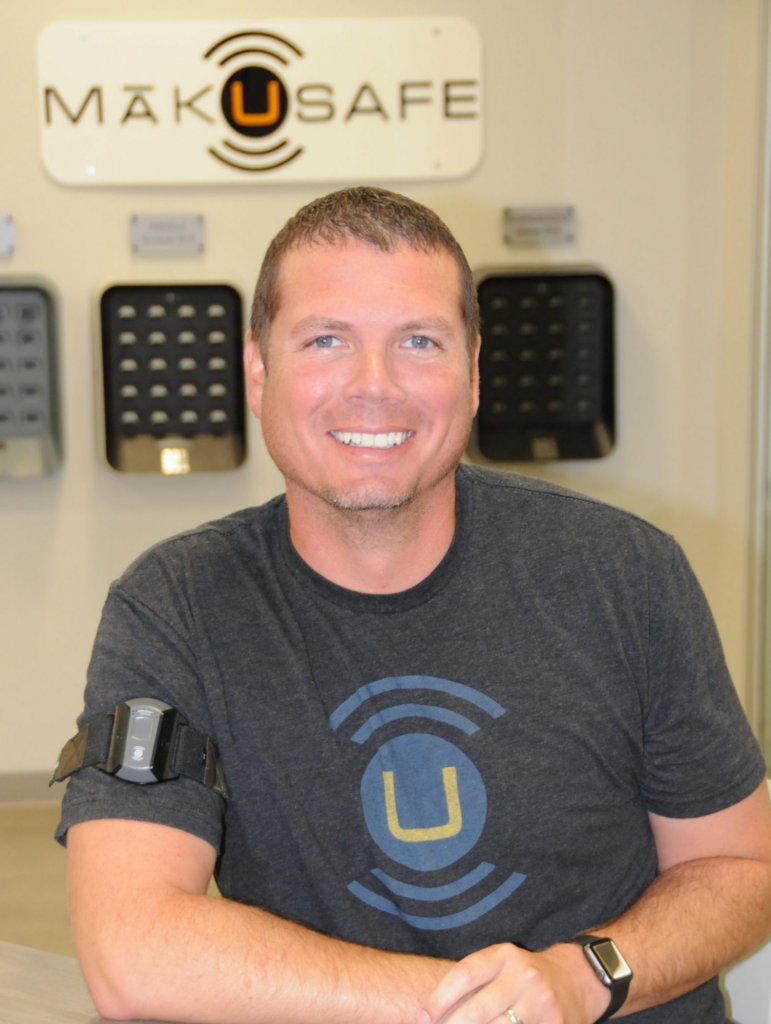 Photo Caption: Gabriell Glynn wearing the company product.
Wearable technology is personal for this CEO. Glynn's passion stems from his family lineage. His father spent the last half of his career as a safety leader, and 100 years ago Glynn's grandfather narrowly missed being involved in a fatal plant explosion.
According to Glynn, "The value of human capital, worker safety, has never been higher."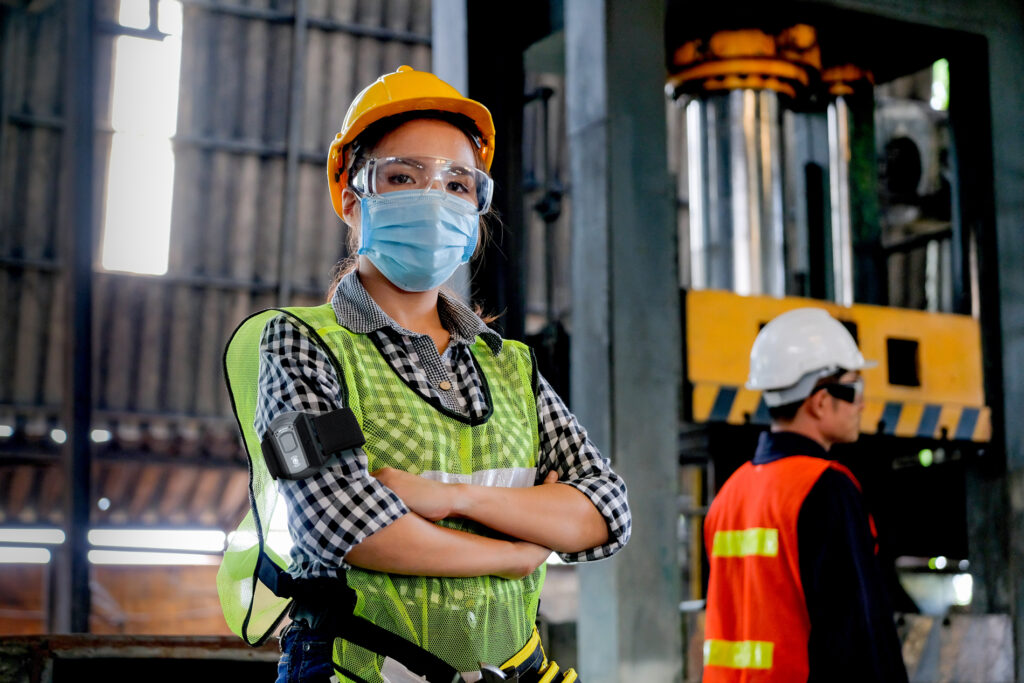 Elegant Simplicity – Wearable Sensor Technology.
MakuSafe's wearable device is comfortably worn on the arm of each worker and requires little employee training or interaction.
Each worker now carries with them a powerful array of sensors gathering data from the environment around them, as well as exposures and experiences. This data about potential hazards and risk including heat exposure, noise levels, air quality, and slips/trips/exertion, is sent in real-time to a cloud-based analytics platform called MakuSmart.
Safety and operations managers now have intelligence at their fingertips that may indicate when sound and noise levels are too high, which could impact worker hearing for a lifetime.
These leading indicators of environmental, health and safety hazards enable proactive risk mitigation, ultimately preventing accidents and workers' compensation insurance claims.
MakuSafe's wearable builds a connected worksite and creates high performance and enhanced personal safety. Bringing the workers into the connected environment is one way Glynn describes the human value of their technology. Glynn adds a sobering thought when he said "1,000 people globally die on worksites every day." MakuSafe offers both employers and employees new levels of job site safety.
Makusafe Data Brief
Launched in 2020.
Founded in 2016.
Industrial wearable safety married with data analytics.3,000 workers on the platform.49 job sites across 35 North American clients.
A client in Mexico is the first international job site.
25 employees.
$15 million dollars raised in venture backed capital.
Midwest angel investors especially EMC Insurance Company, an early and close partner, and Next Level Ventures (funds Iowa based companies) back MakuSafe.

About MakuSafe:
MakuSafe created the first of its kind wearable communications device for capturing everything from near-miss activity to quality assurance and LEAN reports.

MakuSmart is an Artificial intelligence (AI) driven business platform for process management, production automation and data-driven risk assessment for businesses that have workers with physical jobs.

Current customers include SME (small and medium side industries) and Fortune 500 companies in the manufacturing, construction, logistics, energy and food/ag industries.

www.makusafe.com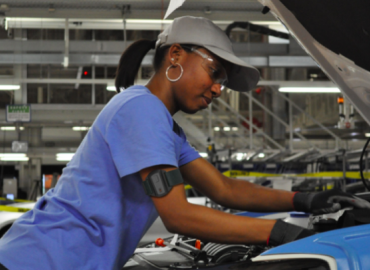 MakuSafe enables more effective hazard identification, injury prevention and disease mitigation, with data gathered, identified and made actionable in real time. Employees working in close proximity to each other can be easily pinpointed if someone is sick or near-miss accidents occur.
How Does MakuSmart Work?
The armband includes a voice memo recorder to capture 15 second operational voice mails to leadership. These near-miss reports, good catches, and observations from front line workers have tremendous value to organizations. The wearable sensors gather data, offering real time processing, with the possibility of indicating when sound and noise levels are too high, which could impact worker hearing for a lifetime.
Within the blue collar sector, safety, health, on-the-job workplace injury prevention and risk mitigation are critical factors.
Dollar cost data makes this point abundantly clear in relationship to critical factors. The Insurance Information Institute, on www.iii.org, estimates that in 2018, eight billion dollars of lost wages were reported from workplace injuries. The same year, this website stated that the employer cost of worker's compensation claims was 98.6 billion dollars.
Insurance Impact Wins
EMC Insurance completed a data study from this technology and determined that claim frequency and quantity were down more than 50% while claim severity decreased more than 90%. Audits revealed that client insurance premiums decreased in some cases.
Beyond premium reduction impact, wearable technology offers heightened measures of wellbeing that companies seek in part due to the difficulty in staffing skilled trades.
Glynn sees MakuSafe capturing measurable, positive output "at the highest level, in accident plus trauma prevention, moving the data gathered and measurable success." "Data is gathered on a granular level, leading to actionable insights" said Glynn.
Why can't we gather risk data and get more proactive? is a key question that drives MakuSafe employees. 1,000 people globally die on worksites every day which makes this sensor technology data more than relevant.
Four Key Data Sets the MakuSmart Sensors Measure:
Environmental – Temperature, humidity, lighting, air quality, air pressure and social issues. Exposure incidents to harmful elements that impact immediate and long-term health and safety concerns are recorded.
Location of employees related to risk factors; worker-to-worker proximity.
Human motion – slips, trips and fall hazards.
Worker psychicality related to production. Two workers doing the same job may produce the same or less output with different levels of exertion. Results can lead to training needs identification or modification of job description and work output.
MakuSafe's product may lead to enhanced preventative safety measures, job rotation and worker movement or ergonomic changes, preventing future injuries.
High Tech. Human Touch.
Providing operational suggestions in real time to client leadership is a critical indicator to workplace satisfaction, safety and future casting, in true comparison to a field like weather forecasting. Both harness data used days in advance.
MakuSafe seeks to redefine the physical nature of jobs and position descriptions, ultimately preventing accidents and insurance claims.
At the end of the day, the three components of MakuSafe's product work in harmony – an armband worn sensor device, AI analytics software platform, and real time voice memos from the front lines.