Since our last scoreboard update, Iowa has seen tremendous improvement. The state added nearly $100 million in venture funding during the month of May. Illinois and Minnesota continue to significantly outperform their population estimates with every other state performing at or below the expected value. This continues to suggest that population density drives some form of non-linear expected production.
Missouri is underperforming in 2022 after a strong 2021.  While the total amount of money deployed is nothing to sneeze at, the number of deals per capita is pretty low compared to past years and other state's in the region.  As usual, Oklahoma is greatly underperforming.  This feels less like a trend and more like the state needs a serious infusion of ecosystem building.  South Dakota and North Dakota continue to be low producers of funded startups, but with such small populations, these states are highly variable and can move dramatically with a single, significant funding.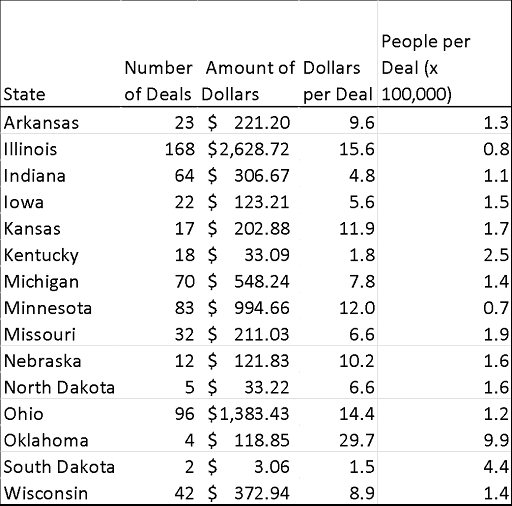 Chicago is by far the dominant community in the Middle. While Minneapolis, Detroit, Columbus, and other large MSAs have their fair share of startups, the Chicagoland area is the region's startup engine.
What strikes me is the last column where we can compare communities by population on a normalized basis. Communities with a disproportionate level of education and a large educational institution outperform their population. Ann Arbor (University of Michigan) is a .2; Champaign (University of Illinois) and Lafayette (Purdue University) are measured at .3. This advances the college town hypothesis which is that college towns produce a disproportionate number of startup companies. However, this hypothesis is not always clearly true. South Bend (Notre Dame), Manhattan (Kansas State), and Lansing (Michigan State) would suggest that it needs additional refinement.
However, communities with dominant educational institutions and large metropolitan areas (such as Chicago and Minneapolis) appear to produce more startups – or at least have produced more venture backed startups in 2022. This suggests that there is a significant advantage to those places that goes beyond local color or some one-off ecosystem level advantages. Instead, these places appear to be doing things that create an environment where more startups appear to happen.
There are plenty of papers that postulate hypotheses to this end result. However, when places consider basic building blocks, we believe that there are a couple of central traits:
Find entrepreneurs. Transient communities create more at-bats for free radicals and new ideas. If a place has good identification tools in place – events, angel groups, and other knowledgeable community tools (a blog like mug.news for example), then it is more likely to find veins of ideas and companies.
Local funding networks help provide startup funds but also help create ways for outside dollars to come to bear. Networks with alumni, faculty, and successful startups are particularly networked beyond a community. Many of the other communities are insular and look within their own proven families and networks. Entrepreneurs are likely to emerge outside of these "proven" networks.
Diversity of thought, people, expression, and other tools are critical components of innovation and providing enough positive feedback loops to help encourage entrepreneurs and thereby retain them during the initial startup stages.
These are not novel ideas – just some basics that appear to be more likely in towns that have universities or are melting pots.  This is instructive to other places that may not have these reputations to be intentional about cultivating and breaking down "proven" networks.