VidaNyx is an Omaha-based technology spin-out of Giving Tech Labs, an organization that seeks to develop various social justice-oriented technologies. VidaNyx sells cloud-based Digital Video Evidence Management software.
According to an April 2021 U.S. Department of Health and Human Services report, there were millions of allegations of child maltreatment in 2019. Hundreds of thousands of these allegations were found to be substantiated by video evidence. Establishing the validity of such allegations through video recordings requires an evidentiary process that tracks the holding of the video, or chain of custody, from the video's recording up to its use at trial.
The preservation of chain of custody is a difficult technical challenge, providing a
significant opportunity for building a software tool that provides governance around the evidentiary process. VidaNyx sells the company's software-as-a-service (SaaS) to child advocacy centers around the United States; these child advocacy centers use the VidaNyx solution to more efficiently pursue justice and healing for children who have been maltreated.
In a December 2020 press release, VidaNyx announced its feature on X4Impact's
marketplace. X4Impact is a Seattle-based platform that focuses on amplifying the voices of social innovators. X4Impact identifies companies whose innovations are geared toward ventures in one or more of the 17 United Nations Sustainable Development Goals.
According to Sara Boyd, CEO of VidaNyx, "The X4Impact Marketplace expands our
connections with an aligned network of nonprofit, government, and foundation partners focused on elevating impact for survivors at scale." Boyd's hope is that on X4Impact, they will be able to reach more child advocacy centers, and help more survivors of child maltreatment.
VidaNyx is not the only company that offers this service, but it is uniquely angled
specifically at addressing child maltreatment. During 2020, closures due to COVID-19 exposed the inefficiencies of old video-evidencing strategies. Child Advocacy Centers, the law enforcement with which they worked, were reliant on hard copies of evidence such as DVDs of survivor's testimonies. This medium for evidence was found to be profoundly inefficient with many workers out of the office and many children out of school, and has since proven to be wildly insecure.
Tanya Murray, Director of Uinath and Dagget Children's Justice Center, said, in a
comment about the company, "Prior to VidaNyx, our Center was handing over DVDs to investigative agencies. Where they went from there, we didn't know. Since using this program, it's become clear that these interviews were shared more than any of us imagined. Being able to keep this information safeguarded has been invaluable." Beyond safety, VidaNyx has been able to decrease the cost of evidence management by 90% and increase time efficiency by 67%.
VidaNyx was founded in 2018 by Shelly Kurtz and Luis J. Salazar. Both remain with the company, but not on a full-time basis. The two have been co-founders on several other ventures as well. They were both involved in the founding of Giving Tech Labs and X4Impact in 2017 and 2019, respectively.
"The technology sector has mastered the fundamentals of matching and networking
technologies, powered by AI to help us find a driver, a book, a place to stay, or people to meet. Yet the process of identifying systemic social problems, understanding the friction points, having access to trustworthy sources of information or an understanding of the economic and human impact is still done manually for the most part," said Shelly Kurtz in a 2020 press release. Kurtz views innovation as an essential tool for solving a broad set of problems that have been somewhat overlooked. The mission of VidaNyx is part of that vision.
The premise of Giving Tech Labs, the originator company of VidaNyx and X4Impact, is that it uses "Tech for the Public Interest," or Tech4PI. They have observed how technology has changed the way the world works, citing examples from email to tinder, and asked why similar changes have not taken place to serve the public interest. Since its founding in 2017, in response to its own query, it has launched seven social tech enterprises. This vision of solving real-world problems with technology is what sparked the idea for VidaNyx.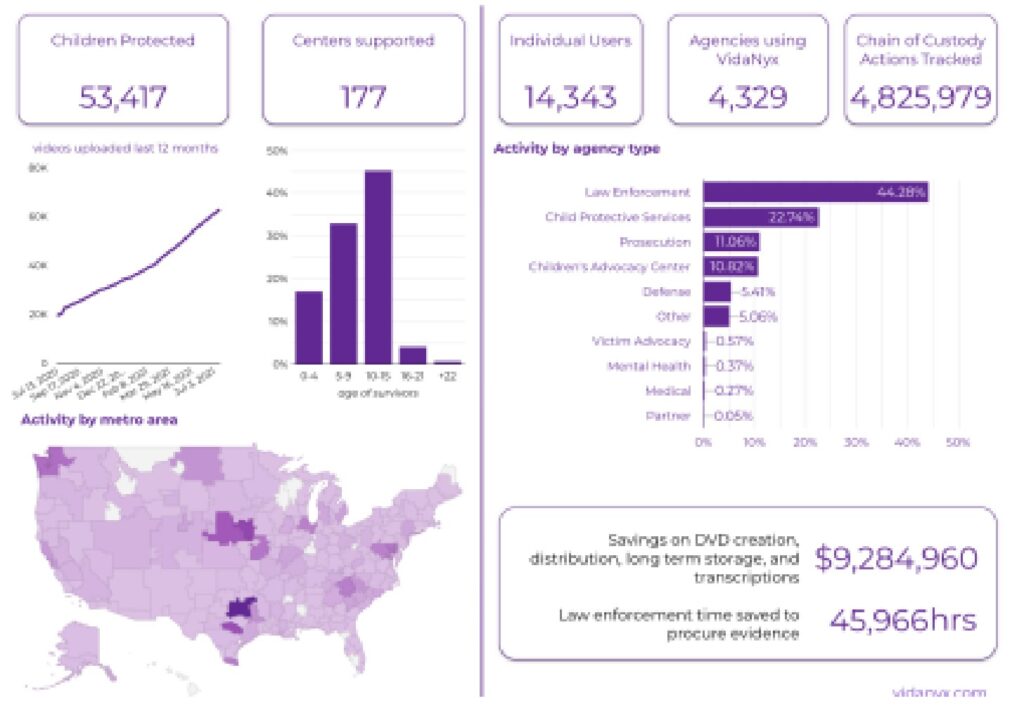 With over 50 thousand survivors protected, and the 2020 hire of Sara Boyd as CEO,
VidaNyx is in a good position to continue its growth. Boyd has previously worked as CEO of the Omaha Community Foundation, and she has years of experience working in organizations focused on carrying out initiatives driven to improve the community. As VidaNyx grows its network with child advocacy centers beyond its home markets, it will be in a good position to cement itself as the market leader in child maltreatment video evidence technology.
Beyond market position however, it will be in a position to improve more lives and foster healing and justice for survivors. With a strong and innovative parent company, a high-quality SaaS, and a good team, VidaNyx looks to be in a good spot in Omaha.