Today is Earth Day.  A day in which most of the country celebrates the importance of the planet and acknowledges the effect that humanity is having on the climate.  Climate change is a very real concern for everyone on this planet. At Mug.News we stand with science.
Over the past couple of weeks, we have looked at a variety of companies in the Middle that are actively working to reduce humanities impact on the climate. If you would like to read a primer on this, Bill Gates (of Microsoft fame) recently produced an excellent book, How to Avoid a Climate Disaster, regarding climate change and how to help humanity reach zero net emissions.
Currently, humanity puts more than 51B tons of greenhouse gases into the atmosphere.  Finding ways to reduce this overall impact is essential to ensuring that the devastating impacts of climate change (more frequent floods, droughts, and extreme weather events) can be lessened.  As such, we chatted with a couple of companies and their personnel about their role in reducing climate change.  We were particularly impressed with 75F, a company from the Twin Cities area of Minnesota.
Bob French, Chief Evangelist at 75F, described a couple of key considerations regarding their company's efforts to reduce climate change and why he has chosen to work there. "Heating and cooling our buildings consumes 10% of the energy we produce. 75F has the opportunity to make a global impact with accessible technology that makes heating and cooling systems more efficient and healthy for people. For me, there was no better way to leverage my time on this earth." This forward thinking mission has helped 75F generate significant initial traction, including landing more than $28 million in venture funding.
The company provides automation systems for buildings – to help them become smart buildings.  This provides a means for the buildings themselves to act independently to regulate temperature and other environmental factors.  French described 75F's process as such, "The first step was to develop a software platform that is interoperable with all other technologies, accessible to SMB owners, and powered by Cloud computing to maximize the beneficial power of technology to make systems more efficient." In addition to the platform, 75F has a number of smart devices that automatically control the temperature like this one.  The integration of smart controls, sensors, artificial intelligence, and other tools has radically transformed the landscape for building operations – making them smart, but also providing a vehicle to lessen their environmental impact.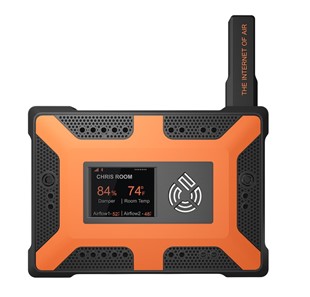 However, 75F has needed help and continues to need help from the community. French added, "we are a largely unknown brand. We are seeking building owners and facility managers who know there is something better for their commercial buildings." This is a common theme that we hear talking to startups from around the region – they need customers. In fact, it is our experience that the best way to help startups is to make introductions to clients or become a client yourself. Chances are you work or did work in an office building before the pandemic. Is your building a smart building? If not, tell the owner to reach out to 75F and Bob French and help reduce your impact on climate change.
In addition to customers, early-stage companies often need venture capital. This capital can be used to build software (or other long lead time tools) to be sold at a high volume after its completion. This often means that companies spin up their product for years before they hit the market. And, 75F has been the beneficiary of active venture investors – seeking deals in the Middle. For example, French explained, "Steve Case was one of the earliest tech leaders to recognize the potential impact 75F could have through his Rise of the Rest initiative." Rise of the Rest has helped many early-stage founders in the Middle. In addition, to Rise of the Rest, there are many regional funds focusing in on high growth enterprises here.
And in the case of 75F, Rise of the Rest was not their first investment. 75f received one grant funding from the Southern Minnesota Initiative Foundation back in 2014. Particularly with companies that require deep scientific or technical understanding, it is common to receive early-stage grant funding. Finding local mechanisms (or building them in your community) is an excellent way to spur policy changes that facilitate new companies.
We are not the only ones that are excited about 75F.  The company recently raised an additional venture round.  And, we look forward to their growth across the Middle.
For more information visit https://www.75f.io