On a chilly day in February, women makers got together in the back of a shop to put on a Galentine's Day pop-up to celebrate the grand opening of Five Nine. Five Nine is a specialty shop in the Benson neighborhood in Omaha, NE that sells stationery, home goods, and practical art built on a belief in the beauty of everyday objects and the magical connections that are built-in neighborhood shops. Megan Hunt has been a retailer and creative entrepreneur for 20 years and her new concept allows a space for local designers and creators to build a community by hosting regular pop-ups to share the work of independent artists and business owners.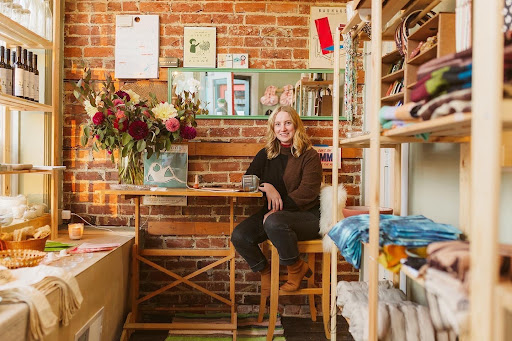 Megan's previous business, Hello Holiday, had closed in November of 2019 and she felt unclear about what the next move would be. Shortly after, the pandemic hit. The complex feeling of both mourning the loss of her business while also feeling grateful to not have to be managing a shop and workers in the early days of Covid was something that Megan had to balance. Luckily, the pandemic gave her time and space to refocus her professional goals and remember her passion for retail and design. Her son, Ash, was also getting interested in creative entrepreneurship, so together, they crafted up the idea of Shop Five Nine in the fall of 2021. 
Five Nine is their passion project of creating a space for them to be creative while having a physical space to build a community. As you walk by the shop, you see candles, notebooks, handmade goods and more in the window. As you walk in the shop, the aroma of local candle maker, Wax Buffalo, wafts to your nose while paper goods, jewelry and a variety of art await you to browse through. The shop space is cozy and packed with something for everyone. In the space, you can see windows to the back where Megan and Ash host pop-up events like their grand opening party. Dried flower arrangements from Mauve Moon Florals, homemade treats from Baked by Sweet Melissa and hand painted pots from Pot Fot Shoppe were among the vendors at the pop-up.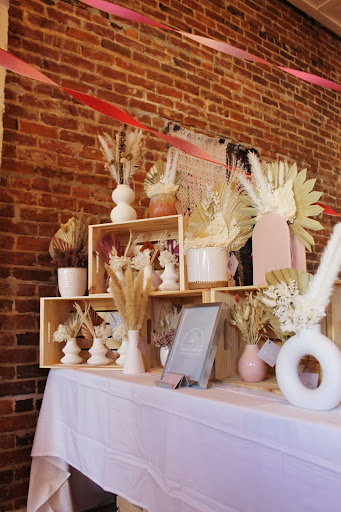 "I've been an avid supporter and builder of the Midwest startup and entrepreneurship community for the past 15 years, and my favorite thing about being a business owner here is the opportunity to involve the local community. We love organizing events like pop-ups, fundraising drives, clothing exchanges to benefit disadvantaged women, launch parties for collections from new designers, and basically anything we can do to share our space and our platform," said Megan.
Shop Five Nine has garnered support throughout the community by word of mouth and on social media. Megan has decided not to bother with any investors or equity or the labyrinth of paperwork that goes along with that. The belief that nobody can pull off a big idea without a hand from your community is something that Megan trusts in. Friends have come to her aid with financing, heavy lifting, or just emotional support when the going gets rough. 
"Having a handful of dedicated supporters and friends in your arsenal are indispensable to accomplishing any dream. I just wouldn't be here without those people, and the best way for me to pay that forward is by making my resources available to others as well… I spent so many years hustling and playing the game in the world of venture funds and fast growth and "crushing it" and "failing fast," and now I just want to run a cute shop for the joy and fun of it." said Megan.
One thing you may notice within the shop are goods from other local women makers. You can find beautiful jewelry from Pacific Dreamz or handmade pots and other home goods from Elysian Studios. The majority of the staff at the shop are women.
" I prefer working with women, being around women, and working to improve the lives of women," said Megan.
You can shop in store at 6105 Maple St or online at https://shopfivenine.com/ to support Megan and Ash.
Image Caption: Dried Flower Arrangements from Mauve Moon Florals at Five Nine's Grand Opening Party.