Collectively, the Middle has raised more than $9 billion in venture capital thru the end of June 2022. This is off the pace of the historic 2021 – but significantly ahead of other previous years. This provides evidence that while venture capital is slowing in other parts of the country, it does appear that the growth of the Middle's venture-backed economy continues to expand.
In large part, this success of the Middle is tied to Chicago's growth and evolution as a startup and venture capital hub. Chicago has clearly placed itself as the Middle's dominant community for venture-backed startups. This has not always been the case, but Chicago has clearly shifted to being the leading community – with more companies and deals. But, it also is home to significantly larger deals on average than virtually every other community. It would behoove the Middle to embrace this rather than attempt to ignore the role of Chicago in being a major capital and potential syndication hub. Having this in the region is an asset for all of the communities – but particularly Madison, Milwaukee, Lafayette, Indianapolis, Saint Louis, and Detroit that have strong existing relationships that have yielded many advanced deals.
Chicago's dominant position is the main reason for Illinois' significant lead. Ohio has half as many deals – despite three significant ecosystems – Cincinnati, Cleveland, and Columbus. It appears that population continues to be a key determinant of size and scope of deals – but it is the population of the largest communities – not just the state's populations (link to earlier research). Fundamentally, ecosystems are communities, not states. Chicago drives Illinois. The three Cs drive Ohio. Minneapolis-St. Paul drives Minnesota. This helps explain why the people per deal numbers in these places are consistently indicative of more frequent deals and more size per deal.
Nebraska is an anomaly in the data. We believe that this is tied closely to effective public policy associated with the Nebraska prototyping grant. We are strong advocates for this program and acknowledge that bias. However, of the twenty deals in Nebraska, all but one has received funding from the state's program. Moreover, Nebraska has been a leader in building external relationships to help leverage dollars that are from other markets (particularly Chicago) – such as the strong relationship between Invest Nebraska and M25. Another key relationship that has created pathways for finance is the strategic relationship with gener8tor (Wisconsin based) via NMotion. This program has continued to expand and grow – including a recent expansion from Lincoln to Omaha. This outward face allows Omaha and Lincoln to outperform larger communities in Oklahoma and other states.
Conversely, Oklahoma fails because companies are not found early enough and deals rarely get regional collaboration and syndication. The primary public policy entity that provides venture capital is an entity called i2e. According to Pitchbook, i2e has not made an investment in a company founded since 2020. Thus, they are not actually investing in startups. The "startups" that have been invested in – according to Pitchbook – in 2022 were formed in 2003, 2006, 2006, 2010, 2016. These are not startups. These are companies that have struggled in under fertilized ground. The reality is that these companies are raising money (and sometimes from i2e), but no regional or national organizations are paying attention. For example, there are not many national publication or syndication stories about these raises. This leaves i2e and the existing powers with control but also an ecosystem that is undernourished and under-performing. Building relationships with communities – such as Austin, Chicago, and Dallas – is essential for Oklahoma to increase the amount of high growth, venture-backed startups.
This is not a 2022 related story.  This publication and my research have shown this pattern for almost half a decade at this point.  This is an entire cycle of companies that the state has not grown.  Instead, with an alternative strategy the state should have data that is more consistent with Iowa or Arkansas (based on population alone).  Moreover, as stated earlier the largest communities in a state are strongly correlated to the success of the overall state's data more highly than just state population.  OKC and Tulsa are both large enough to have much more robust ecosystems than any community in Iowa or Arkansas.  Simply put, Oklahoma should be recalibrating to a more regional focus to build relationships around capital from hubs – leveraging i2e's seed funding to unlock rather than landlock Oklahoma's best startups and scaleups.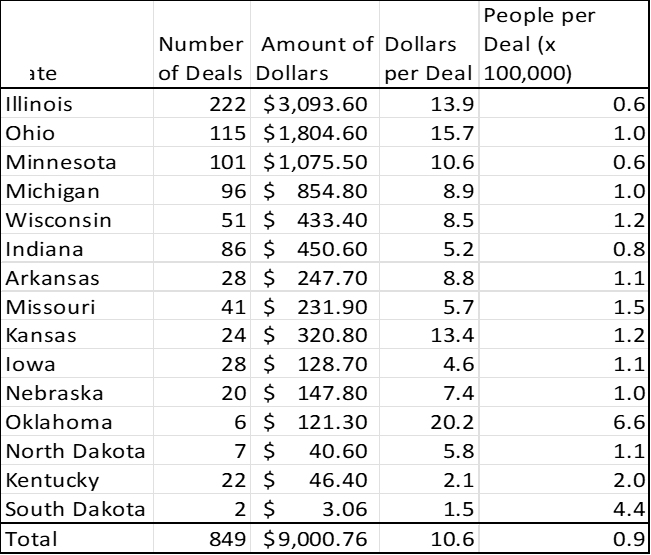 MSA Data
Since our last update, there have been some shifts in the MSA leaderboard. Both Indianapolis and the deals in rural areas have significantly increased compared to the other deals. The rural areas are particularly noteworthy because the number of deals is significant – but they are also small dollar deals. With $2 million dollars per deal, the rural areas significantly trail virtually every major community in the region. This is a sign of limited resources being devoted to true rural opportunities throughout the Middle.
As we have executed this research, we have also considered other elements of the data. For example, we have examined the data associated with AgTech and Agriculture. This is an area where rural areas and the Middle should succeed according to conventional wisdom. However, the data suggests that over the last seven years, the Middle has trailed California in AgTech and Agriculture funding by about 20%. Critically, these deals have had only 40% the number of investors. This appears to be the central lesson that we are identifying by researching this information. It is not that deals cannot be funded in small places – rural, small states, etc. It is that the number of investors appears to be significantly lower in less dense ecosystems. This suggests that states looking to unlock more rural investment should be considering ways to jumpstart grants, angel investing, and other pre-venture capital sources of investment. This is not a function of more dollars – but dis-aggregating investment to be less centralized in public entities. Thus, groups like i2e and Invest Nebraska should be considering ways to get more rural investors from latent to active.
One surprising outlier in the data was Fayetteville, Arkansas. While Fayetteville has had one company, AcreTrader drive much of the investment dollar amount. The number of deals is reflective of its position as having a significant public university. Often in the Middle, there is a perspective that the bigger/"better" university will have a larger effect. This may not be true. It is an open question from our perspective as some of the best universities have moribund ecosystems in their communities. Moreover, our research on technology transfer and commercialization puts into suspicion the idea that the quality of the university is the only indicator of its positive effect on an ecosystem. Ann Arbor, Madison, and others would suggest that big, public universities can drive successful ecosystems. But, Ames, Grand Forks, Lincoln, and Fayetteville would suggest that the university in question need not be a Top 20 university in the country to potentially cause a successful ecosystem to bloom.
Unlike conventional wisdom, our research does not suggest that it is the research necessarily driving that success. The data from the Association of University Technology Managers (AUTM) provides information about university driven research and commercialization. While that data lags, its impact appears to hover in most years and for most universities between 10-30% of the overall ecosystem production. Thus, they are important but do not appear to be the driver that many have maintained and directed. In this way, it is possible that the university towns are driving innovation for reasons beyond the university or that are related to other aspects of the university – such as mobility of population, smart technologists, or other components that are more around talent than research. This is an open question – but it appears unlikely that R&D is the dominant answer for strong college town venture backed company strength.
Many of the communities near the bottom of the chart have either a single deal, and in some cases a large deal. Experience in these communities would suggest that it is easy to say that the ecosystem is working because they have a large investment. These are far more anomalous and variable than communities want to believe. Leadership in communities should be focused on increasing the number of deals – not the size of those deals. [With the exception of the rural communities described above – as they are disaggregated already.] More frequent opportunities require better ecosystems and better ecosystem create more frequent opportunities. For example, a community with one deal a year is unlikely to unlock an accountant, lawyer, and bank to develop understanding of high growth elements. This means that the community can not develop the specialized types of expertise necessary without more frequent at-bats.
In the case of many of the communities near the bottom today, those peripheral supporting pieces have not yet developed fully. In turn, this means that entrepreneurs do not receive the necessary advice and service that they need to grow further. Thus, the problem compounds across all of the features. This is why public policy is often utilized to jumpstart activity to ensure that the rest of the ecosystem can develop to support. It is also one of the risks that can stultify a state – see Nebraska vs. Oklahoma. The reality is that public policy is not a one size fits all. Instead, it requires trial and error. For example, Kentucky has utilized the Phase 0 and SBIR/STTR matching programs to great effect. Whereas, Nebraska enacted those same programs over a decade ago – with limited impact. We believe that this is probably a lot more about the humans running the program than the language in the law. This is not an indictment of an individual but of the process around programming and expectations. States pass laws but should also confirm that they have positive impact on entrepreneurs.