Recently, I was providing some research to a client that required me to look at a map for Broadband. In the process, I saw that North Dakota has a lot of green (meaning their broadband is over 1 gig) in many places. It caused me to ask the question – why?
First, some things about North Dakota that are relevant. There are not a lot of people. North Dakota has the fewest residents of the states on the map below – at 770,026. This makes it the fifth least populated U.S. state. Moreover, as you look at the map, the section in green does not share a disproportionate number of those residents.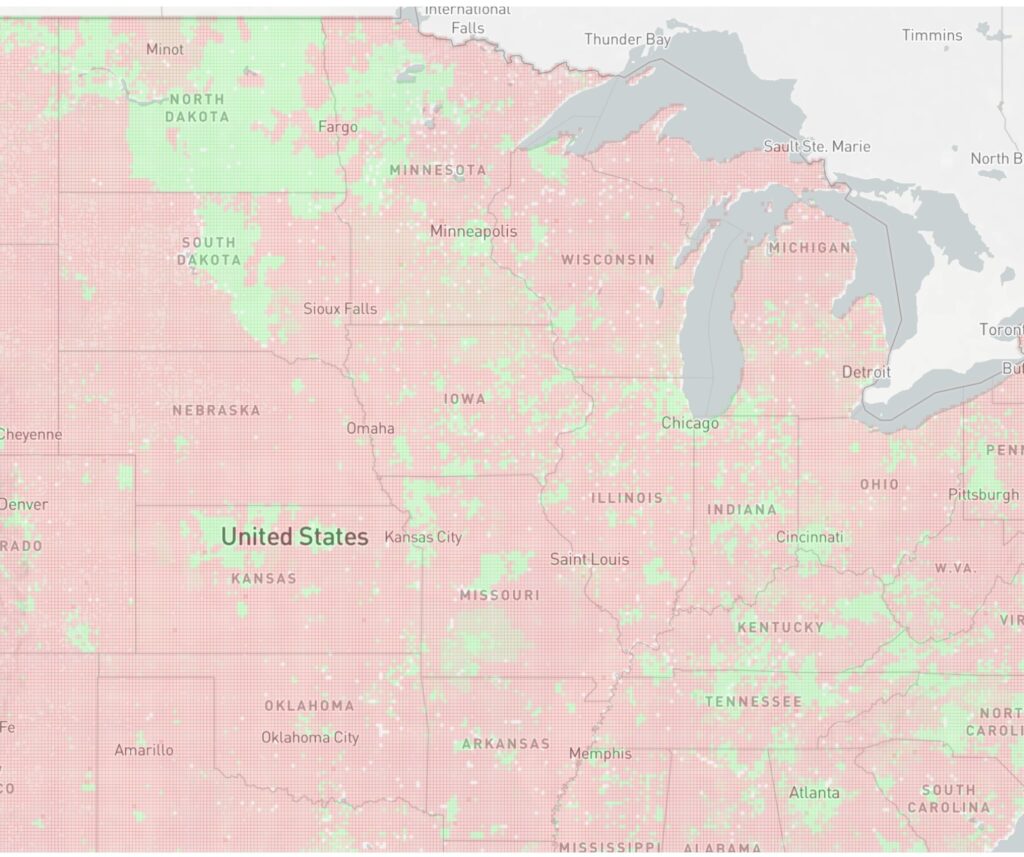 In many states, the metropolitan areas have green dots or green sections – but the rural areas do not. They are littered with pink. The pink means that the max internet speed is 25 mbps. This is about the speed at which a family could exist with a streaming TV (around 10 mbps) while having four Zoom calls (~3mbps per) – or one game of Fortnite.
So Why?
Nick Theime wrote a great article explaining the two-fold answer in NewAmerica. The short-summary of this article is that 1) the federal government helped during the Obama era infrastructure bill. This bill specifically helped to connect universities and built a broadband highway across North Dakota. 2) North Dakota has strong cooperatives that also play a role in providing some public services – such as broadband. These cooperatives banded together to create the Dakota Carrier Network.
The Dakota Carrier Network was founded in 1996 to help provide an organizing company to ensure that rural parts of North Dakota have broadband. Since inception, the organization has laid more than 40,000 miles of fiber, employs more than 1000 people, and invests nearly $100 million in fiber construction per year. Collectively, this now amounts to nearly $1.4 billion in plan investment. All of this is to serve 164,000 in 300+ communities.
Many states, including the one in which I live (Nebraska), claim to have a commitment to rural broadband. But, the maps and information would say otherwise. North Dakota has built a strong infrastructure for rural areas. They should be a model for the region, but it remains a secret. Perhaps, it is time that we take a lesson from our northern neighbors.